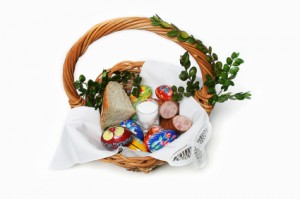 Polish traditions at Easter always include eggs for a variety of uses.
Easter eggs called Kraszanki are ornamental eggs made using various techniques. Hard boiled eggs are skillfully decorated and represent the revival of nature and the hope that one gains from faith in the resurrection of Jesus Christ. Hard boiled eggs are also served with a traditional Polish Easter soup Żurek Wielkanocny or Biały Barszcz.
Eggs for Easter Breakfast are always sure to grace every Polish table, and we have a delicious recipe for an egg casserole that we are sure you will enjoy.  The Pulaski Meat Market makes bacon, ham, breakfast sausage, smoked kielbasa, fresh kielbasa and  other delicious sausages that you can add to this recipe for your own special touch.  Enjoy!
Wesołych Świąt
Wesołego Alleluja
7 Slices White Bread
8 oz Grated Sharp or Extra Sharp Cheddar Cheese
6 Whole Eggs
3 cups Milk
½ tsp Salt
¼ tsp White Pepper
1 tsp Dry Mustard
¼ Stick Melted Butter
Crumble bread and mix in cheese, spread on well greased 9" x 13" pan.
Beat eggs, milk, salt, pepper, and mustard until well mixed and pour over bread & cheese.
Drizzle melted butter over mixture cover and refrigerate overnight.
Bake in preheated 350 F oven 50 – 55 Minutes.
Optionally add cooked bacon, sausage, peppers, or garlic to taste, or serve meats as a side.