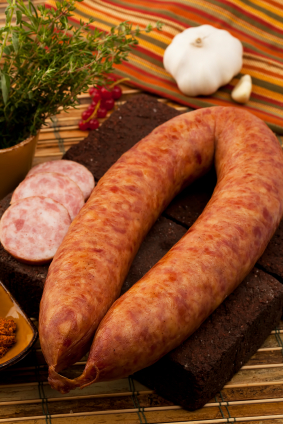 Kielbasa is homemade with an old family recipe at the Pulaski Meat Market Utica, NY.
Kiełbasa – a little history
Kiełbasa, the polish word for sausage was perhaps brought to Poland by ancient Roman traders traveling the Amber Routes to Poland as early as 500 B.C.  The Romans loved pork and made a variety of sausages.
When Poland converted to Christianity circa 966 A.D. the bonds between the two countries strengthened and the Holy Roman Emperor Otto III visited the King of Poland King Boleslaw I 1000 A.D.
A feast for 3 days followed and culinary ideas and recipes were exchanged, sausages being part of that sharing.  The rest, is as they say, History!
Kiełbasa is one of the Pulaski Meat Markets most popular offerings.  Vincent Bulawa follows in his father John's footsteps continuing to make Polish Kiełbasa with old family recipes. 
Polish smoked kiełbasa is very popular in Utica NY as is polish fresh kiełbasa.  You can find a list of the sausages available at the Pulaski Meat Market here under Kiełbasa (sausage) .
Eaten hot or cold, Easter, Christmas, or any day kiełbasa is used to make soups, sandwiches, stews (Bigos), or eaten as an entrée.  It can be smoked or freah and is prepared by many methods, boiled, fried, grilled, steamed in beer, or dried.
Polish sausage is usually made with pork, but turkey, lamb, veal and beef may be used.  Turkey kiełbasa is a good seller for people looking to for a lower fat variety of sausage.
Popular varieties of Polish Sausage:
Polish Smoked Kiełbasa

Fresh Kiełbasa or White Sausage ( Bia

ł

a Kiełbasa)  Popular in Easter soup żurek

 

Dried Kabanos (beer sausage)

Dried Kabanos (hunter style)

No Garlic Kielbasa (Bratwurst)

Hot Dogs the #1 precooked sausage in America!

 

Kiełbasa Krakowska
Usually made from ground meats and stuffed into a casing, susage is one of the oldest form of prepared foods. The Pulaski Market uses only the finest ingredients for making kiełbasa.
Stop by today and taste Central new Yorks finest Polish Kiełbasa for yourself at the Pulaski Meat Market, located at 1201 Lenox Ave., Utica NY
Call (315) 732-8007