Having a Polish Christmas Eve-Wigilia in Utica NY
will make fond memories for years to come.
Wigilia traditionally starts with the sighting of the first evening star that inspires the remembrance of the Star of Bethlehem affectionately called, Gwiazdka "the little star". Literally meaning "vigil" Wigilia is the focus of a Polish Christmas in Utica, NY.
The Christmas Tree – Choinka arrived in the 19th century in Poland and is usually decorated on Christmas Eve morning, some begin trimming the tree at the beginning of Advent. Hand crafted and hand painted glass ornaments called Bombki from Poland are considered amongst the most beautiful in the world. Once the tree is fully decorated lights and all, gifts are placed under the tree and attention is returned to the Christmas Eve meal.
After the little star is spotted, often by anxiously awaiting children, the family gathers for Christmas Eve dinner – Wigilia is started.
Traditionally hay is placed under the Wigilia dinner table cloth or on the table as a center piece, symbolizing the manger Christ was born in. A figurine of the baby Jesus in a hay lined cradle is also a popular center piece. Some Families place hay in each corner of the room where dinner is served, some in the corners of every room of the house.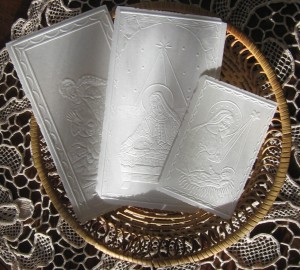 Dinner starts with the breaking of the Christmas Wafer – Opłatek, the wafer is passed between family members and close friends and pieces are broken off along with a blessing of good wishes and love.
Opłateki are made of wheat flour and water, the unleavened wafers are made by pressing the mixture into thin wafers with a decorative embossing of religious images like the Nativity Scene and others.
The Christmas wafers are used in homes and are not Sanctified, but used as a reminder of the Body of Christ.
The Wigilia dinner is meatless and features some type of seafood. Some families offer 12 dishes, one for the memory of each of the Apostles, and some have odd numbers of dishes such as 5, 7, or 9 as a sign of good luck. One empty place at the table is left for the unexpected guest past or present.
Kolędy – Polish Christmas Carols are played or sung at home and also later at church at Pasterka – Midnight Mass. Believed to have started in the fourteenth century as the first Polonaise, Polish Christmas Carols were folk songs anonymously created by the Polish people, many mountaineers and peasants. They can range from somber to merry rhythms and are sometimes referred to as "Shepherd's Carols."
An old Polish saying goes:
"Jak w Wigilię, tak i przez cały rok"
"As is Wigilia, so is the entire year"
Celebrating a traditional Wigilia – Christmas Eve in Utica NY is easy with all the Traditional Polish Foods and Gifts available at your "Wigilia Headquarters" the Pulaski Meat Market, 1201 Lenox Ave Utica NY 315-732-8007.
Boże Narodzenie