Christmas Carols performed by Polish artists: Krzysztof Krawczyk, Urszula Sipinska, Eleni, Mazowsze, and more!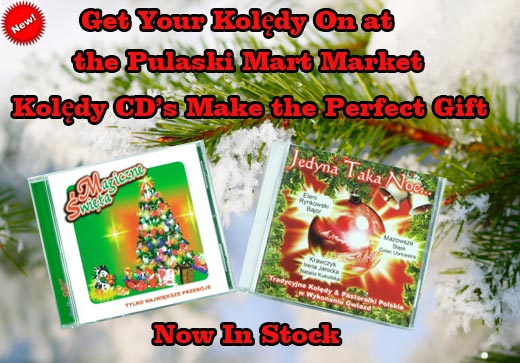 Jedyna Taka Noc…
The Only Night Like That
Tradycyjne Koledy Polskie w Wykonaniu Gwiazd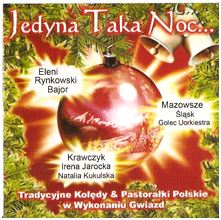 Bog sie rodzi – Krzysztof Krawczyk
Wsrod nocnej ciszy – Krystyna Gizowska
Jezus Malusienki – Urszula Sipinska
Lulajze Jezuniu – Alina Pszczolkowska
Gdy Sie Chrystus rodzi – Krzysztof Krawczyk
Gdy sliczna panna – Magda Durecka
Dzisiaj w Betlejem – Krystyna Gizowska
W zlobie lezy – Krzysztof Krawczyk
Mizerna cicha – Magda Durecka
Pojdzmy wszyscy do stajenki – Urszula Sipinska
Aniol pasterzom mowil – Magda Durecka
Przybiezeli do Betlejem – Krzysztof Krawczyk
Medrcy swiata monarchowie – Urszula Sipinska
Cicha noc – Alina Pszczolkowska
Magiczne Święta
Eleni…..Pójdżmy wszyscy do stajenki
Mazowsze…..Bóg się rodzi
Golec Uorkiestra…..wœród nocnej ciszy
Piasek, Szczeœniak….kolęda dwóch serc
Anna Maria Jopek…..Dzisiaj w Betlejem
Rynkowski…..cicha noc
Trebunie Tutki…..lulaj że Jezuniu
Grzegorz Markowski & Maciej Silski…..daj im znak
Natalia Kukulska…..gdy œliczna panna
Bajor…..W dzień Bożego Narodzenia
Krawczyk…..Mędrcy Œwiata
Golec Uorkiestra…..Gdy się Chrystus rodzi
Landamus Norum…..Jezusa narodzonego
Vox…..Triumfy Króla Niebieskiego
Demono…..Œwišt wesołych życzę wam
Blue Cafe…..happy x-mas
Lora Szafran…..All I want for christmas
Piotr Cugowski…..białe œwięta
Œlšsk…..w żłobie leży
Irena Jarocka…..cicha noc
Whether you listen to or sing Polish Christmas Carols – Kolędy in Utica NY as a Polish family tradition or want to start to celebrate a traditional Wigilia, visit the Pulaski Meat Market at 1201 Lenox Avenue in Utica NY.
The Pulaski Market is your "Wigilia Headquarters" in Central New York. Stop in and you will find everything you need to have a Great Polish Christmas.
Learn More aboutPolish Christmas Eve-Wigilia Utica NY