Looking for Polish Easter Patries in Utica NY?

The Pulaski Meat Market in Utica NY has ready to serve pastries, cookies, and candies for your Easter celebration. Babka is a traditional Easter favorite and you can get Syrena's Bakery's famous Cheese Babka or Cheese Ring.

Chruściki or Angle's Wings are a Polish pastry made of strips of fried dough sprinkled with powdered sugar. Light and crispy they are homemade fresh at the Pulaski Market.





Nothing says Polish pastry like Poppy Seed Cake, and you can buy a fresh poppy seed coffee cake everyday at the market.



If you love to bake, the market carries a large selection of imported Polish pastry fillings , jams , preserves, fruits, and baking aids.


Imported Polish Pastry Fillings
Poppy Seed – Masa Makowa
Apple
Blueberry
Apricot
Raspberry
Caramel
Fudge Caramel Coconut
Fudge caramel Creme
And More!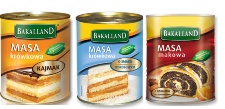 Sernik – Polish Cheesecake is also always welcome. If you need baking ingredients or recipie ideas stop by at 1201 Lenox Ave, Utica NY or call (315) 732-8007, and you will get prompt freindly assistance.