The Pulaski Meat Market in Utica NY has all your Super Bowl Party Favorites.
Here is our recipe line up for this years big day!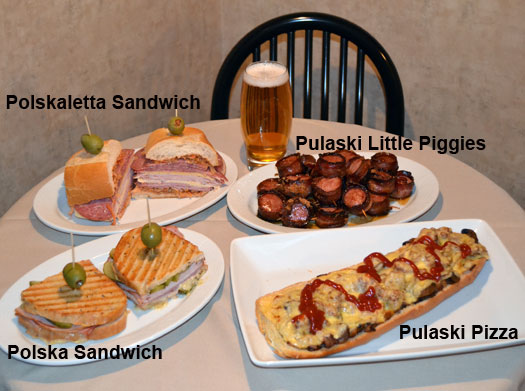 Polska Sandwich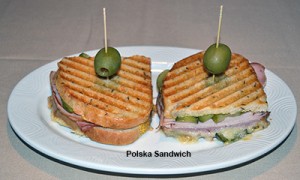 Sliced Pulaski Roast Pork
Sliced Pulaski Ham
Sliced Imported Polish Cheese
Krakus Imported Polish Dill Pickles
Tarnowski Bread
Mustard
Layer pork, ham,and cheese on tarnowski bread spread with mustard
top with sliced pickles, cover with bread. Butter top and bottom of sandwich
with butter and cook on a panini grill or in a frying pan until golden brown.
Pulaski Pizza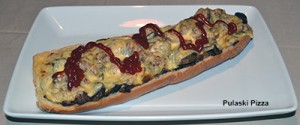 Italian Sub Roll
Sliced Mushrooms
Sliced Onion
Butter
Pulaski Fresh Kielbasa
Sliced Imported Polish Cheese
Sautee onions and mushrooms in seperate pans until caramelized.
Remove casing from fresh kielbasa and fry until browned.
Slice bread length wise and spread with butter, place bread buttered side up on baking sheet.
Top with mushrooms, onions, kielbasa and cheese, bake 350 F 15 minutes until bread is crunchy  and cheese begins to brown. Top with ketchup as desired.
Polskaletta Sandwich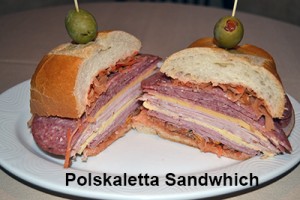 Italian Sub Roll
Sliced Genoa Salami
Sliced Pulaski Ham
Sliced Pulaski Rollade
Sliced Danish Butter Cheese
Sliced Imported Polish Cheese
Salatka Krolewska
Slice bread in half length wise put a layer of pickled salad on bottom slice of bread. Layer ham, butter cheese, rollade, Polish cheese, and salami and top with picked salad and bread.
Pulaski Little Piggies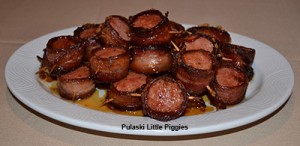 Pulaski Smoked Kielbasa
Pulaski Smoked Bacon
Brown Sugar
Slice kielbasa into 1″ peices wrap with bacon strip use toothpick to hold bacon.
Bake 350 F 20 minutes remove from oven sprinkle with brown sugar return to oven
for 10 to 15 minutes until browned.
Make Sure to stop by the Pulaski Meat Market and stock up for Game Day! We have everything you need to make these delicious recipes.
We have the best selection of Imported Polish Beers in Central New York. Treat your guests to the best homemade kielbasa and cold cuts.