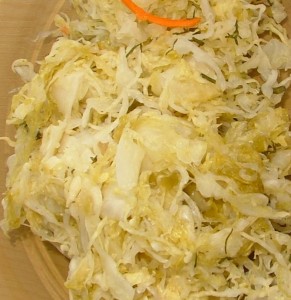 Where to find Polish Sauerkraut in Utica, NY
Sauerkraut or Kiszona Kapusta, is cabbage that has been finely shredded,  layered and packed with pickling salt and allowed to ferment just like traditional Polish pickles.
The Pulaski Meat Market in Utica, NY sells homemade sauerkraut or several varieties of pre-packaged pickled cabbage better know as sausage's best freind, sauerkraut.
Kapusta has a long shelf life and requires no special starter bacteria when making it, because they are naturally present on raw cabbage. Raw sauerkraut is packed with healthful vitamin C.
Sailors kept a stock of Sauerkraut on long voyages as the high levels of Vitamin C helped prevent scurvy. So limes as we commonly know were not the only food used to prevent that disease. Interestingly most animals can make their own Vitamin C, but not humans.
In any event sauerkraut or Kiszona Kapusta is used in many Traditional Polish Foods like:
Polish Sausage and Sauerkraut
Sauerkraut Pierogies
Kapusta with Kluski Lane
Ham Hocks In Sauerkraut Polish Style
Kielbasa with Sauerkraut
Pork Chops and Sauerkraut
Sauerkraut Soup – Kapusniak
Bigos – Hunter's Stew

The Pulaski Meat Market in Utica, NY has both homemade and pre-packaged sauerkraut for the chef in you! Also they offer a variety of traditional Polish foods made with sauerkraut ready for you to heat, eat and enjoy.