Looking for Polish Dried Mushrooms in Utica for your Wigilia recipes?
The Pulaski Meat Market is the best place to buy dried Polish Mushrooms in Utica NY.
Dried Polish mushrooms or dried Boletes edulis are better known as porcini. Imported Dried Polish mushrooms come from the wild forests of Poland, they are considered the best. They add a rich deep flavor that enhances any polish recipe. Soaking them will fill your kitchen with a wonderful powerful fragrance. When cooking, just 3 ounces of dried mushrooms will equal about 1 pound of fresh mushrooms.
Polish dried mushrooms should soak for at least 30 minutes in hot water. When ready to use, squeeze them dry into the bowl and reserve the rich liquid to flavor your recipe. Remember to pour off the liquid carefully, leaving behind any grit at the bottom of the bowl.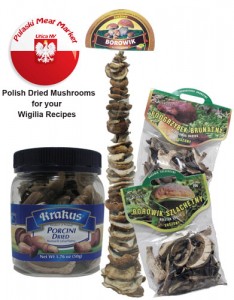 The most popular recipes for Wigilia or Polish Christmas Eve that use dried mushrooms are Red beet Borscht with Mushroom Dumplings – Barszcz Czerwony with mushroom filled uszka "little ears" dumplings, mushroom Sauce, mushroom soup, and sauerkraut with mushrooms.
We have some recipes we hope you will enjoy. They are all meatless so that you can enjoy them for a traditional Wigilia meal.
The Polish Christmas Eve starts when the first star appears in the eastern sky known as Gwiazdka.
Old Polish Traditions also include sharing Oplatek at the Christmas Eve Dinner. We have everything you need.
Wesołych Świąt i szczęśliwego Nowego Roku!

Mushroom Sauce
"Sos Grzybowy"
2 oz Polish dried mushrooms
1 pound fresh button mushrooms sliced
2 tablespoons minced shallots
1 large onion, diced
4 tablespoons butter
2 cups rich vegetable stock
1/4 cup white wine
2 tbsp cornstarch
2 tbsp sour cream
Soak dried mushrooms in 1 cup hot water 30 minutes. Clean and finely chop fresh mushrooms. Melt butter, add onion and shallots, cook over medium heat until translucent. Add fresh mushrooms to onion and shallots until they brown
Add stock to pan bring to a simmer. Chop soaked mushrooms fine and add to pan.
Dissolve cornstarch in wine, add to pan and stir until thickened. Finish by stirring in sour cream until sauce is smooth
Mushroom Soup
"Zupa Grzybowa"
1 lb fresh button mushrooms sliced
2 ounces dried mushrooms
1 large onion fine dice
4 tablespoons butter
1 cup hot water
6 cups rich vegetable stock
1 cup heavy cream
3 tablespoons flour
Salt and pepper to taste
Sherry wine to taste
Soak dried mushrooms in1 cup hot water 30 minutes, squeeze dry & reserve liquor, chop fine. Melt butter in a heavy pan add onion and sauté until translucent. Add fresh mushrooms and cook until they start to brown and liquid evaporates. Add soaked chopped mushrooms and flour, stir well. Stir in vegetable stock, cream, and sherry until thickened. Salt and pepper to taste.
Red Beet Borscht with Mushroom Dumplings
"Barszcz Czerwony z Uszkami"
Soup
4 red beets sliced about 3 lbs
1/4 lb each carrot, parsnip, celery, leek
Small bunch parsley with stalks
4 whole allspice
10 whole peppercorns
4 bay leaves
2 quarts water
1-2 cups beet sour
2-4 cloves garlic, optional
lemon juice, salt, pepper, sugar
Peel beets, rinse and slice. Wash carrots, parsnips, and leeks and quarter
Place vegetables in pot and cover with water, add parsley, allspice, peppercorns, bay leaves, and garlic. Simmer for 1hour and skim. Strain out vegetables, Add beet sour. Flavor with lemon juice, salt, pepper, and sugar to taste.
Kwas – Beet sour
Beet sour needs to ferment for 4 days before using.
2 lbs peeled & sliced beets
Boiled water, cooled below 100°F
Slice or two of rye or sour dough bread
Peel, Rinse, and slice beets. Place sliced beets in a glass jar cover with warm water and add two slices of bread. Cover jar with cheesecloth and leave at room temperature for 4 days. Strain through cheesecloth into a glass jar and refrigerate until needed.
Mushroom Filling for Uszka
1 onion diced chopped fine
1 lb fresh mushrooms chopped
2 oz dried mushrooms
2 tbsp dry breadcrumbs
2 tbsp butter
1 tbsp parsley chopped fine
2 eggs beaten
1 cup hot water
Salt and pepper to taste
Soak dried mushrooms in 1 cup hot water 30 minutes. Melt butter in pan sauté onion until translucent. Add fresh mushrooms cook until they start to brown. Squeeze water out of soaked mushrooms (Reserve water from mushrooms for beet soup) chop, and add to pan. Add breadcrumbs, egg, and parsley to cooked mushrooms in large bowl mix into a paste. Refrigerate until needed.
Uszka Dough
2 cups flour
1 egg beaten
2 oz water
½ tsp salt
Pot of boiling water
Beat egg and water in a bowl add salt and flour knead into smooth dough. Let dough rest 20- 30 minutes. Roll out thin and cut into 1½" by 1½" squares. Place a small amount of mushroom filling into the center of each square. Moisten two edges of the dough and fold diagonally into a triangle. Then fold and pinch two corners together. Cook in pot of salted boiling water until they float. Serve with Red Borscht.
Sauerkraut with Mushrooms
"Kapusta Kiszona Z Grzybami"
2 lb bag sauerkraut with juice
2 tbsp butter
1 small onion chopped
1 lb fresh mushrooms sliced
2 oz dried Polish Mushrooms
Salt and pepper to taste
Empty bag of sauerkraut with juice into pot & cover with water. Simmer for about 20 minutes or until tender. Soak dried mushrooms in hot water while sauerkraut simmers
sauté onions and fresh mushrooms in a heavy pan with butter until golden brown. Drain the sauerkraut in colander, rinse if needed and press out any extra water, add to onions.
Squeeze soaked mushrooms until dry and chop fine, then add to cabbage & onion mixture. Blend well and season with salt and pepper to taste.
Serve hot as a side or use as a filling for uszka, pierogi, or nalesniki.
The Pulaki Meat Market also carries the following sauces, mixes, soups, and concentrates to get you cooking fast!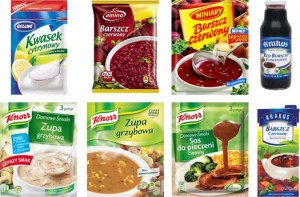 Krakus Red Borscht Soup
Krakus Red Borscht Concentrate
Kwas Cytrynowy – Citric Acid
Amino Barszcz Czerwony – Red Borscht soup mix
Winiary Barszcz Czerwony – Red Borscht soup mix
Knorr Sos Do Pieczeni Ciemny – Dark Gravy Sauce Mix
Knorr Zupa Grzybowa – Mushroom Soup Mix
Stop by the Pulaski Meat Market at 1201 Lenox Ave in Utica NY and say hi to Santa . . . oops. . . oh I mean Vinny Bulawa for all your Polish recipe needs for Wigilia.
Christmas Utica Wesołych Świąt Bożego Narodzenia!
>
Merry Christmas from the Pulaski Meat Market Utica NY