Memorial Day in Utica NY
Memorial Day is observed on the last Monday of May, this year it's May 30th and is a federal holiday that commemorates our soldiers that died while in military service.
Memorial Day also marks the start of another summer vacation season filled with backyard barbecues, trips to the beach, fireworks, and of course the Indianapolis 500, which has been held every year since 1911 on Memorial Day Weekend.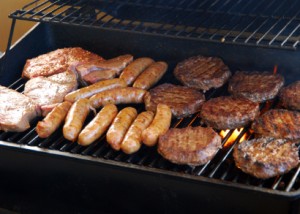 If you are having a cookout for your Memorial Day celebration, make sure to stop by or call the Pulaski Meat Market in Utica New York for a great selection of meats for grilling.
Kielbasa Patties
Hot Sausage Patties
Hamburger Patties
Hot Dogs
Brats
Steaks
Ribs
Pork Chops
Make the Pulaski Meat Market your grilling headquarters
starting Memorial Day Weekend 2011.
And remember when grilling and you lift the grill cover . . .

" If you're lookin' you ain't cookin' !"