Kielbasa patties are great for grilling!
Kielbasa is the Polish word for sausage and means all kinds of sausages.
The Pulaski Meat Market has kielbasa patties that are a fresh Polish Sausage. Always made with the fresest ingredients. Traditional fresh Kielbasa starts with fresh bonless pork butts and is seasoned with salt, pepper, additional seasonings, and of course garlic.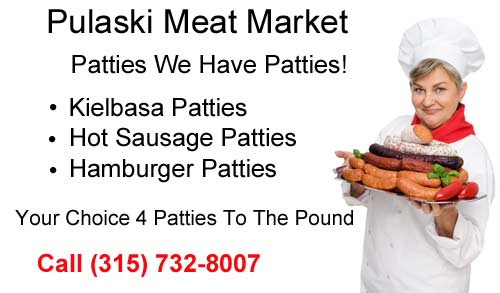 "Famous For Our Kielbasa! "


These patties are the same delicious fresh kielbasa we offer in natural casings. Fry them in a pan for breakfast or cook them on the grill to make a great grilled kielbasa sandwich. For the best sandwich always use fresh buns. They are tasty served with sauerkraut & onions, cheese, peppers and onions, or just plain, enjoy!