It's Kielbasa Grilling Time Again in Utica NY!
Time for some outdoor cooking and enjoying grilled Kielbasa, and Hot Dogs.
So to help you get the grilling party started we are having a special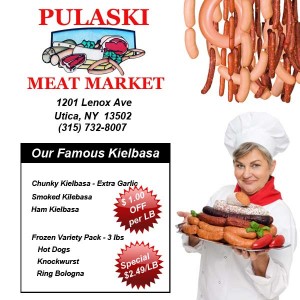 Save $1.00/LB off our famous Smoked Kielbasa, Chunky Kielbasa, and Ham Kielbasa

Smoked Kielbasa Reg $4.39/LB Special $3.49/LB
Chunky Kielbasa Reg $5.39/LB Special $4.49/LB
Ham Kielbasa Reg $5.69/LB Special $4.69/LB

Try our Frozen 3LB Variety Pack for only $2.49/LB !
When looking for a little variety you can enjoy Hot Dogs, Knockwurst, & Ring Bolonga, Great for a crowd.

Pulaski Meat Market your Kielbasa Headquarters in Utica NY!