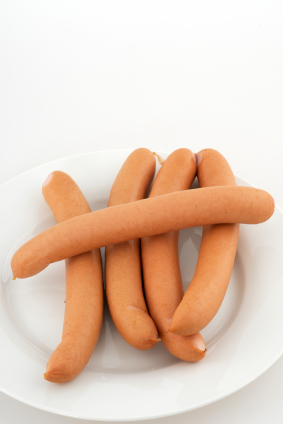 Hot Dogs are one of our favorite summertime foods in Utica NY.
Every city has their favorite hot dog and in Utica our customers from around Central NY say we have the best hot dogs made anywhere! Get yours at the Pulaski Meat Market 1201 Lenox Ave, Utica NY (315) 732-8007.
Some call them frankfurters, hot dogs, or just dogs. Everyone likes them their own special way, grilled, boiled, beer steamed, or charred black on the campfire. With Memorial Day weekend approaching to kick off the summer cookout season you can enjoy them all season long.
Pulaski Meat Market's hot dogs are made fresh with the best ingredients. They are a combination of beef & pork with natural casings.
A good hot dog has natural casings that give you a snap with every bite. Grill over medium heat and turn a ¼ turn frequently because they brown quickly. Just a few minutes is all it takes, you'll know as you watch them plump. No matter the cooking method whether boiled, steamed, or grilled the cooking time only takes a few minutes.
Juicy, hot, and delicious nothing beats a Pulaski Market hot dog on a fresh bun dressed with your favorite goodies. The most common additions to a dog are sauerkraut, onions, mustard, relish, chili, cheese, jalapenos, ketchup, you get the idea!
You can even be an artist and create "artdogs" by scoring your hot dogs with a sharp knife. The classic design is the crisscross pattern. The kids love them, so go wild! All those nooks and crannies really hold on to your condiments.
Plain or fancy hot dogs and summer go hand in hand. So stop by the Pulaski Meat Market for what our customers call the best Hot Dogs in Utica NY!
Remember we only use the best ingredients, like a combination of fresh beef and pork with natural casings to make you the freshest and best Hot Dogs you can buy.
For your convenience we carry a large selection of imported Polish Mustards, Relishes, Horseradish, fresh buns, and more so you can throw the best hot dog party ever!
You will have the best cookouts when you serve Pulaski Meat Markets Hot Dogs on the grill, Corn Dogs Are Also Great!
Call (315) 732-8007 and order the best kielbasa Patties, hotdogs, hot sausage Patties, and hamburger patties for your Memorial Day Party today!