Gołabki Utica NY Pulaski Meat Market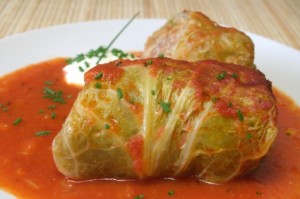 Gołabki are a traditional Polish Food also known as cabbage rolls. A head of cabbage is cored and is placed in a pot of boiling water. When the outer leaves are soft they are peeled off. The soft cabbage leaves are stuffed with a mixture of ground meats, rice, barley, onions and seasonings.
They are formed into fist sized bundles or rolls and cooked and serverd with a spicy tomato sauce. Gołabki translates to "pigeon" and referes to their shape and not the ingredients.
Too busy to cook tonight?
Stop by, pick some up Homemade Gołabki and serve your family our "Heat & Eat" Gołabki tonight!