Fresh ground beef is one of things the Pulaski Meat Market is famous for!
When you look in our meat display for ground beef what you will see is a tray full of well trimmed pieces of fresh chuck steak that we grind while you watch. Pulaski Market offers only the best meats. We also custom grind even leaner cuts like, sirloin tip and eye round beef. Additionally we custom grind ground meat mixes like beef and pork mix.
Call it hamburger or ground beef we call it delicious. Ground Chuck Steak is usually a good choice for making hamburgers because of the balance of rich flavor and fat content, it's great for grilling burgers!
Popular cuts of beef used for ground beef:



Ground beef is used in a wide variety of Polish Foods:
Meat Pierogi
Gołąbki – Stuffed Cabbage
Klops Nadziewany Grzybami – Meat Loaf stuffed with mushrooms
Klopsiki – Meatballs
Mielone Kotlety – Ground Cutlets (Hamburgers)
Łazanki – Noodles with ground beef, onion, and mushrooms
Sznycel – Polish Schnitzel
Polish recipes use ground meat that contains ground beef, ground pork, ground beef & pork mix, and equal portions of ground beef, pork, and veal mix.
Stop Buy the Pulaski Meat Market Today for the Freshest Lean Ground Beef.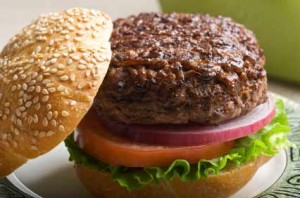 Perfect Grilled Burgers Every Time
Ingredients:
Buy the best ground meats!
Pulaski's fresh ground Chuck Steak is the perfect ground beef for grilling hamburgers because of its fat content and wonderful rich flavor.


For a plain burger, add a little salt and pepper to 1 Lb of meat, mix in 1 tbsp of water as a binder.
Form 4 oz of meat into a patty about ¾" thick and a little larger than the bun you are using. Press a dimple into the center of the burger with your fingers to insure even cooking.
Heat the grill, you want a nice hot grill. When you can't hold your hand above the grate for more than a few seconds it is the right temperature.
• Oil the grate and place burgers on grill.
• Close the cover
• Never press your burgers with a spatula
• Cook about 4 minutes and flip burgers
• Cook additional 4 minutes
• Remember to keep the cover closed "if you're lookin' your not cookin' "
• Turning the burgers only once makes for a juicy burger
• Safe burgers reach an internal temperature of 160°F
For tasty burger variations you can mix in your favorites like onions, blue cheese, hot peppers, or just brush on a BBQ sauce.