Dried Mushrooms are a staple when it comes to Traditional Christmas Dinners. Cooking with Imported Polish Sliced Dried Porcini Mushrooms – Borowik Szlachetny is easy and delicious. One of the most frequently asked question we get is how do I cook with dried mushrooms.
There are three ways you can prepare dried mushrooms:
Soak in hot water for 20 minutes and cut as necessary reserve broth as ingredient
Soak in cold water for 2-4 hours and cut as necessary reserve broth as ingredient
Powder dried mushrooms in food processor and add to recipes.
Reconstituted dried mushrooms have a ton of flavor and are usually combined with sliced or chopped fresh mushrooms depending on the recipe. Every family has their own special way of using them.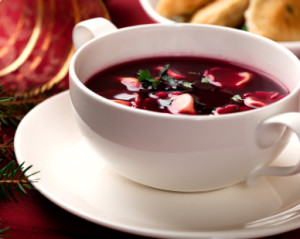 Here are some traditional Wigilia dishes:
Christmas Eve Red Borscht with Uszka (mushroom ravioli) – Barszcz Czysty Czerwony
Christmas Eve Mushroom Soup – Zupa Grzybowa z Kluski – Mushroom Soup with Noodles
Mushroom and Sauerkraut Pierogi
Gołabki with grain filling (buckwheat, pearl barley, millet, or rice) and dried forest mushrooms.